ACRALOCK Product Guide
---
Product
Comp A (ADH)
Cartridge Product
Description
Color
Mix Ratio (vol)
Viscosity (cps)
Working Time (min)
Fixture Time (min)
Tensile Strength (psi)
Tensile Elongation (%)
Single Lap Shear Strength (psi)**

SA10-07WHT
SA10-15WHT
SA10-40WHT

Tough, White UV
Stabilized

WHT

10:1

A: 200,000-400,000
B: 100,000-200,000

7-12
15-20
40-50

14-24
30-40
80-100

2,100-2,600
(14.5-18)

125-150

2,700-3,200
(18-22) Primed

SF10-05
SF10-30

Flexible
Primerless

BLK

10:1

A: 200,000-300,000
B: 100,000-200,000

04-07
23-35

08-14
50-70

1200-1,800
(6-10)

140-180

1400-2,000
(13.8)

FA10-05
FA10-30

Flexible
Primerless

BLK

10:1

A: 200,000-400,000
B: 100,000-200,000

04-07
25-35

08-14
50-70

800-1,500
(6-10)

150-250

800-1,500
(6-11)

SA10-05
SA10-10

Universal 
Primerless

BLK
GRY
OWT

10:1

A: 200,000-300,000
B: 100,000-200,000

04-06
08-12

08-14
16-24

2,300-2,800
(15-19)

80-120

2,500-3,000
(17-20)

SA10-20
SA10-25

Universal 
Primerless

BLK
GRY
OWT

10:1

A: 200,000- 400,000
B: 100,000-200,000

15-20
20-25

30-40
40-50

2,300-2,800
(15-19)

80-120

2,500-3,000
(17-20)

SA10-35
SA10-45
SA10-60

Thick Gap,
Universal Primerless


GRY
BLK

10:1

A: 800,000-1,200,000
B: 100,000-200,000

25-35
35-45
50-70

50-70
70-100
100-140

2,300-2,800
(15-19)

80-120

SA10-75
SA10-100
SA10-120

Thick Gap,
Universal Primerless


GRY

10:1

A: 800,000-1,200,000
B: 100,000-200,000

70-90
90-120
120-160

140-180
180-240
240-320

2,300-2,800
(15-19)

80-120

SA1-510
SA1-530
SA1-560
SA1-590

Thick Gap,
Universal Primerless


GRY

1:1

A: 200,000-400,000
B: 200,000-400,000

8-12
25-35
50-70
80-100

16-24
50-70
100-140
160-250

2,500-3,000
(17-20)

80-120

SA1-05
SA1-15
(HS1-05)
(HS1-15)

High Strength
Primerless
Used with HS1

NAT
BLK

1:1

A:200,000-400,000
B: 100,000-200,000

5-08
15-20

10-18
30-40

2,500-3,000
(17-20)

75-100

3,200-3,700
(22-25)

SA1-705
SA1-715
SA1-730

High Strength
Primerless

GRY

1:1

A: 300,000-500,000
B: 50,00-100,000

05-08
15-20
35-45

10-16
30-40
70-90

2,500-3,000
(17-20)

30-60

4,000-4,500
(28-31)

HT1-930
HT1-960
HT1-990

High Strength
Primerless
Thick Gap

GRY

1:1

A: 200,00-400,000
B: 30,000 - 60,000

25-35
50-70
80-100

50-70
100-140
160-200

4,500-5,000
(31-34.5)

10-20

4,000-4,500
(28-31)

SA1-303
SA1-305
SA1-315

General Purpose
Primerless

NAT

1:1

A:300,000-400,000
B: 100,000-200,000

02-04
04-06
15-20

04-07
08-12
30-40

2,500-3,000
(17-20)

50-75

3,000-3,500
(22-25)

ACRAMAXX Product Guide

---

E10-3
E10-6
Fast fixturing,
Universal Primerless 
OWT
10:1
A:125,000-225,000
B:100,000-200,000
2.5-3.5
5.5-6.5
3.25-4.75
7.25-8.75
2,000
(14)
20
2,500-2,900
(20)
M1-6
M1-18
M1-35
Superior bonding
GRY
1:1
A:100,000-200,000
B:200,000-400,000
5-8
16-22
30-40
20-30  
50-70
90-130
3,500-3,900
(27)
20-30
2,500-3,200    
(22)
M10-6
M10-18
Universal Primerless
NAT
10:1
A:300,000-500,000
B:80,000-120,000
6
18
10-14   30-40
2,200
(15)
10-20
3,000-3,500
(24.1)
* Working times based on 75°F multiple activator or adhesive combinations available with different range of working times.
** ASTM D1002: Unless noted all products are primerless on aluminum. Shear strength based on as received AL 6061. 
aPrimeless- meaning on most metal surfaces- no primer is typically needed, must read TDS notes! bShear strength properties are based on ASTM D1002 using unprepared Aluminum 6061 after 1 hour postcure at 82oC, unless noted primed with Acralock AP-1 metal cleaning/primer solution. All reported working times and colors are based on 75o F using combinations of adhesive and activators available for specific products. Please read and understand all product TDS and Safety Data Sheets, before using any Acralock adhesive

All information is for reference only, refer to the product data sheet for more specific information.

 Click Here to Download PDF Product Sheet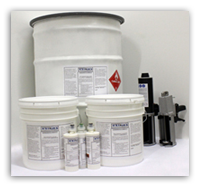 EXPERTS IN BONDING A WIDE RANGE OF MATERIALS EITHER TO THEMSELVES OR CROSS BONDED TO DISSIMILAR SUBSTRATES: STEEL, ALUMINUM, ENGINEERED PLASTICS, HIGH-PERFORMANCE COMPOSITES AND OTHER MATERIALS.