ACRALOCK ADHESIVES FOR WIND POWER AND ENERGY APPLICATIONS BLOW AWAY COMPETITORS


Engineered Bonding Solutions LLC, creators of the premium ACRALOCK line of toughened structural methacrylate adhesives, has formulated its newest product series. The HT1-900A is the strongest and most-advanced methacrylate bonding solution available on the market today, formulated to meet the demands of the wind power/energy industry of tomorrow.
ACRALOCK offers best-in-class durability and shear strength combined with a high resistance to deformation under load when exposed to high temperature as compared with other acrylic adhesives. All of our adhesives reduce assembly and maintenance time and cost, and the chemically fused bond will typically outperform the substrates. The HT1-900A adhesives have the highest combination of tensile lap shear strength and Young's modulus properties in the ACRALOCK product line. The HT1-900A is our latest development for large assembly applications that require long open times and bulk-equipment dispensing. The product line also includes SA10-50-100A (10:1) and SA1-500A (1:1).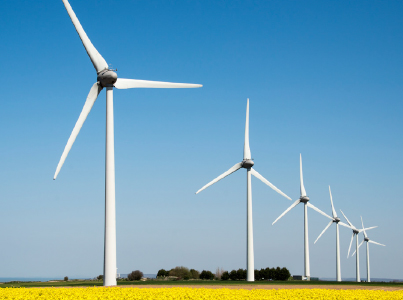 ---
Wind power/energy product guide:
All three products are designed to bond metals, composites and plastics in ambient conditions, with rapid fixture strength and high viscosity to hang on vertical surfaces with the ability to fill large gaps up to 1" without
exothermic boiling. All these adhesives are gray in color. (See important information on TDS.)
---
Product


Working Times

Test @

Substrate

Gap Thick

Postcure @82°C

ASTM D1002 Single Lap Shear Max

ASTM D638 Tensile Strength Max

ATM D639 Elong Max

ASTM D638 Young's Modulus Max

SA10-50-100A

35-100

20° C

AL6061

.012"

1hr

2,800psi 
(19.3 MPa)

3,000psi 
(20.7 MPa)

120%

90,000psi 
(620 MPa)

SA1-500A

10-100

24° C

AL6061

012"

1hr

3,500psi 
(24.1 MPa)

3,000psi 
(20.7 MPa)

120%

100,000psi
(690 MPa)

HT1-900A

30-100

24° C

AL6061

012"

1hr

4,500
(31.3 MPa)

5,000psi 
(34.5 MPa)

20%

400,000psi
(2,758 MPa)
EXPERTS IN BONDING A WIDE RANGE OF MATERIALS EITHER TO THEMSELVES OR CROSS BONDED TO DISSIMILAR SUBSTRATES: STEEL, ALUMINUM, ENGINEERED PLASTICS, HIGH-PERFORMANCE COMPOSITES AND OTHER MATERIALS.